Amazing Laser For Pain Relief
By
I just heard from Sandi Radomski from Allergy Antidotes. She was raving about her new laser that is amazing for pain relief.
This is what she says about her experience of using it:
"First, I saw the results for my significant other Howard. Two weeks ago he woke up with a crinked neck. He was unable to turn his head and was clearly guarding his movements. He looked pretty bad and certainly not in shape to go to our dance class two days later. I suggested using the laser but he kept saying it always takes a long time (at least a week or more) when this happens to his neck.  He used the SL50 for a few moments.  He easily programed the timer for his desired three minutes.  He repeated again that it always takes a long time to get better.  He lasered several times during the day.  The next morning he woke up able to turn his head.  He said he was "amazed, absolutely amazed" because he had relief in so short a time. And he was ready for our dance class.  Mission accomplished.
Then this morning, I was able to experience the power of this new laser for myasel. I woke up with a headache and congested sinuses. Howard immediately handed me the SL50. It was set for two minutes. I put it on my forehead for two rounds being sure to close my eyes. Gone! Head ache pain gone. I was amazed.
Next I noticed a pain in my left lower back (my SI joint to be precise). I lasered the area for only ONE round of two minutes. Pain gone! It seems much faster than my results with my other lasers and the beam is so large you can just hold it in one place rather than moving it.
The SL50 is like my other lasers but on steroids. It has the same 635nm wavelength as my Softlaser Plus. But it has EIGHT Red 635nm laser diodes in one device. It also has the option of infrared either separately or in combination with the laser beam. It has a programmable timer. Most importantly for pain is that it's beam is the widest I have seen in an affordable laser, covering a broader field."
Sandi has been using the lasers at 635 nm for over 20 years and I have been using them for about 7 years. You may already have the small eTox Laser or the Softlaser or Softlaser Plus. Lots of people tell me that they carry their laser with them so that they can use it whenever they need it. Now you can have an even stronger laser that is the same wavelength with some other valuable features.
You can click on the image below to watch a video about the SL50: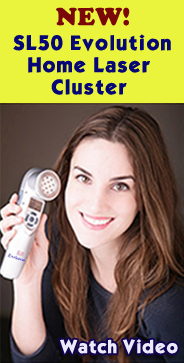 SL50 Video
Let me know if you have any questions.